The Original Souvenir. Made Better.
September 10, 2021
Fans are back in the stands and Stub-e is excited to celebrate this moment with the original souvenir. With its first collegiate partnership, Stub-e is partnering with The Ohio State Buckeyes to offer their fans official commemorative tickets for games at Ohio Stadium during the 2021 football season.
With the rise of digital ticketing across sports teams, leagues and other sports properties fans no longer have the time-honored physical keepsake to attach their memories. Stub-e bridges the gap between the convenience of a digital world and the stories fans want to remember.
Stub-e commemorative tickets feature an exclusive ticket design that fans can personalize with their seat location, a game recap on the back of the ticket so fans will remember the key moments and players and engaging experiences through a QR code.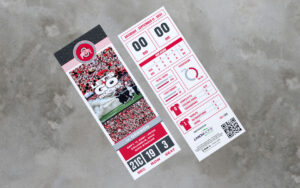 For each game, there is a timed sales window for fans to submit their order. All commemorative tickets are a limited edition and are numbered based on how many tickets are ordered for that game. Whether you attended the game or not, everyone is able to order a commemorative ticket.