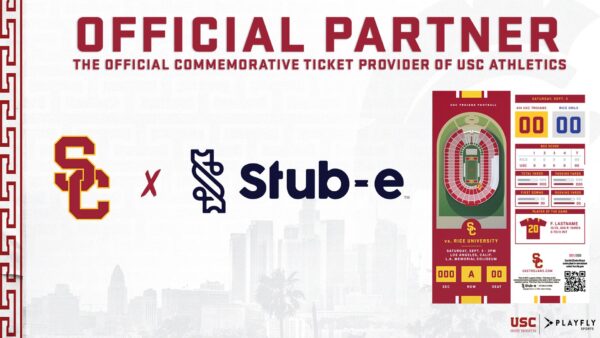 LOS ANGELES – #USC and Stub-e have announced a partnership to provide fans the opportunity to order official commemorative ticket stubs, starting with the 2022 home football schedule. These customizable souvenir ticket stubs include a unique design for each game, personalized seat locations, and a game recap so that fans can remember their experience at the Los Angeles Memorial Coliseum.
"We are thrilled to partner with Stub-e, which gives USC Trojan fans an opportunity to gain a tangible keepsake that would be otherwise digital," said Drew DeHart, vice president/general manager for USC Sports Properties. "Fans will have the opportunity to purchase commemorative souvenir tickets that will lend to those special memories to last a lifetime."
Fans can now order their commemorative ticket stubs for all 2022 Trojan home games at Stub-e.com/Trojans. All fans can order a commemorative ticket, whether you attended the game or were rooting the Trojans from somewhere else. Tickets will have a limited sales window and will be printed and shipped at the conclusion of each game. Each commemorative ticket is a limited edition that is numbered on the back of the ticket, based on how many fans ordered for that game.
"Ticket stubs have always been a cherished keepsake for fans. With digital ticketing, fans have lost that souvenir, and Stub-e is excited to provide Trojan fans a physical memento to collect and remember their game as the 'Official Commemorative Ticket Provider' of USC Athletics." said Pat Thompson, President of Stub-e.
The Stub-e and USC partnership will also extend across select men's and women's basketball games and also key matchups for other USC Athletics Olympic sports.