The Star / June 17, 2015 / Brendan Kennedy
Scott Ingram keeps his ticket stubs in an old photo album, a fitting home for the treasured mementos. He has kept the stub from every Blue Jays game he has ever attended, a collection that spans decades and has grown to more than 200.
As a kid, the stubs were "just another thing to collect," Ingram says. But as he got older he saw something of a higher purpose to it. Ten years ago he started scribbling little notes on the back: the score, winning pitcher, whoever hit a home run and also the name of the friend who joined him.
"It helps solidify your memory," he says. "It's a reminder of my connection to the team over a long time, and it's a way I can reflect on my experiences of going to games."
Much to the chagrin of fans like Ingram, collections like his stand to become increasingly antique as the Blue Jays — like most professional sports franchises — join the march toward digital ticketing.
This year will mark the first time the organization will not send hard-copy ducats to season-ticket holders who, along with those who buy multi-game flex packs, will instead receive an ID card which will serve as not only their ticket but can also be used to purchase merchandise and concessions. (The technology was tested last year with flex-pack holders.) The team also joins the Red Sox, Dodgers, Padres, Rays and Nationals in providing more mobile ticketing options, allowing customers to scan their smartphones to gain admission, buy food and shop in the team store.
"We're trying to get people to go digital," said Stephen Brooks, the Jays' senior vice-president of business operations.
For the Jays, owned by Rogers Communications, digitally integrating ticket sales with concessions and merchandise offers increased marketing opportunities and a new way to sell stuff directly to fans. "We gather customer information, obviously," says Brooks. "If they like certain merchandise items we can engage with the customers: 'You seem to like certain jerseys. Well, here's a certain offer.' It gives us an opportunity now to really know who our fans are and try to engage with them in unique ways."
Marketing angle aside, some fans welcome the convenience of digital tickets. Others, however, lament the loss of the tactile touchstones.
"I have a very sentimental attachment to them," says Gina Below, a season-ticket holder since 2010 and Jays fan for much longer.
Below, who pays $3,400 for her front-row seat down the left-field line, says she doesn't collect her stubs like Ingram — "I use them for bookmarks" — but she has always relished the annual arrival of those perforated pages.
"It's like Christmas morning," she says, laughing. "I swear to God, I smell them."
Brooks said the Jays are looking at ways to offer fans souvenir ticket stubs upon request, perhaps after a game is played. "We're certainly aware of it, because there have been some season-ticket holders who've said, 'You know I'd really like to have that hard souvenir stock.' So we're creating some options where if there's a memorable game for a fan, we can provide a souvenir stock ticket for that particular game."
But there aren't any concrete plans for such a system. "We're still trying to figure out how we can accommodate those special requests from fans."
For Glen Pye, who owns Glory Days Sports, a memorabilia shop in Etobicoke, ticket stubs are big business.
"It's one of our biggest areas," he says, adding — perhaps with some exaggeration — that he thinks ticket memorabilia sales worldwide top $100 million a year.
Pye, who coincidentally has been a Jays' season-ticket holder since the club's inaugural season in 1977, claims he was the "first guy in the world" to buy and sell ticket stubs as a business. A huge sports fan, Pye says he has been to most major sporting events over the last 40 years and used to buy ticket stubs from people outside venues for $5 a pop, then resell them years later for hundreds of dollars.
A ticket stub from the last game at Maple Leaf Gardens can go for up to $600, he says, while proof you were there when Babe Ruth called his shot could net you thousands.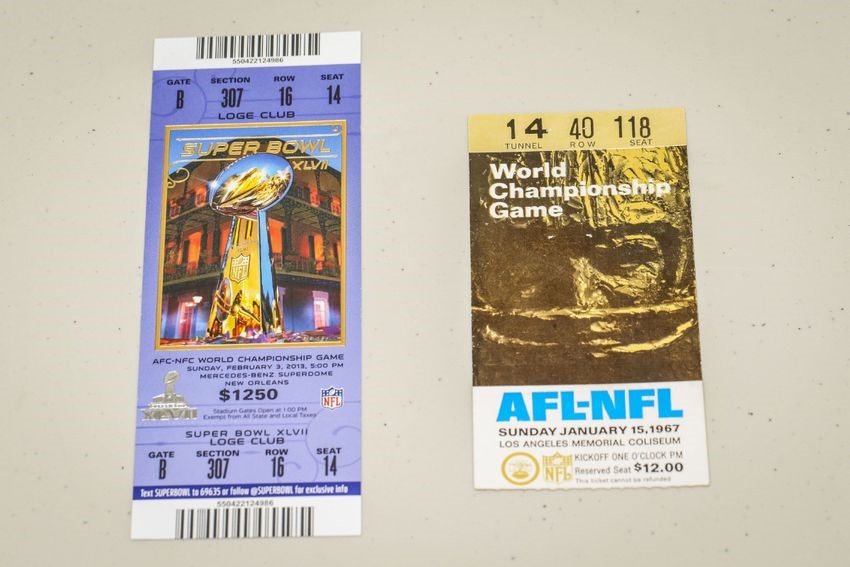 Tickets from the 2013 Super Bowl (face value: $1,250) and 1967 football championship (face value: $12) from Glen Pye's collection.  (DAVID COOPER / TORONTO STAR)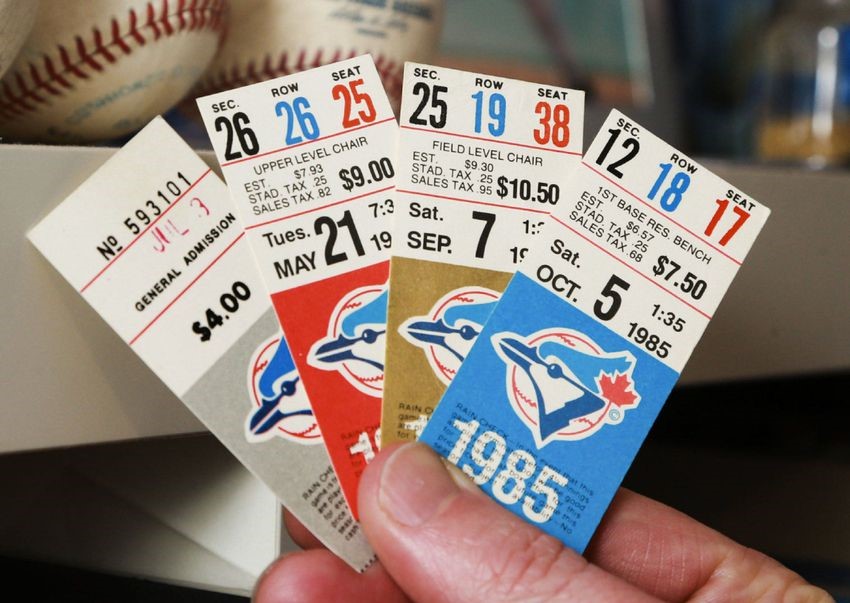 Souvenir baseball ticket stubs are harder to get your hands on with the rise of digital ticketing.  (ANDREW FRANCIS WALLACE / TORONTO STAR)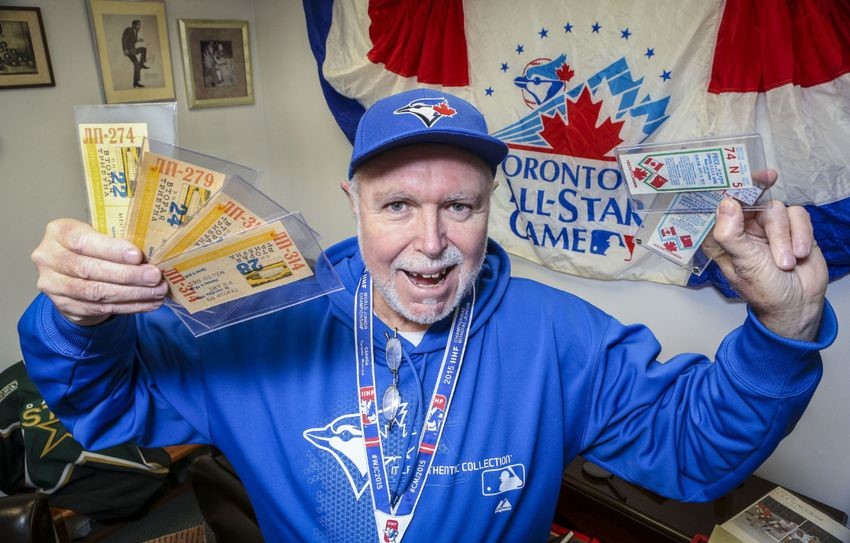 Glen Pye, owner of the Glory Days Sports memorabilia shop in Etobicoke, with some of his collectibles tickets including four from the 1972 Canada-Russia Summit Series, left.  (DAVID COOPER / TORONTO STAR)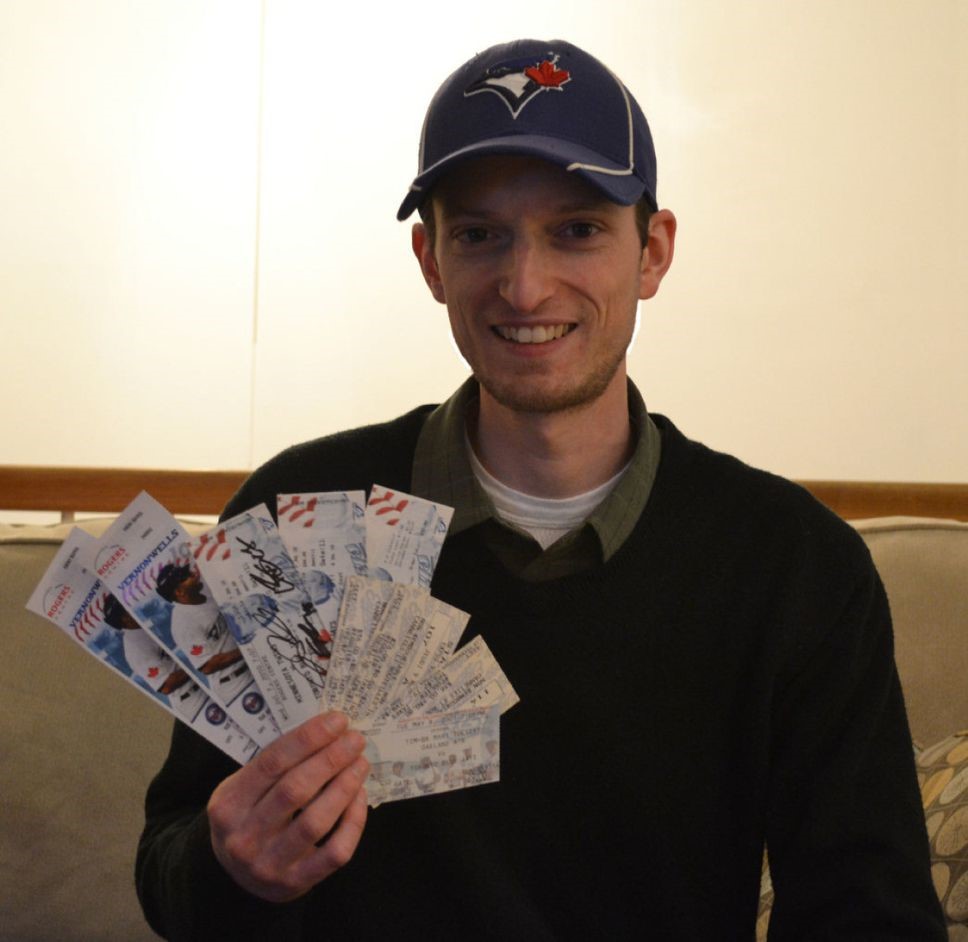 Blue Jays fan David Harrison holds some of the souvenir ticket stubs he has collected over the years, some autographed.  (COURTESY DAVID HARRISON)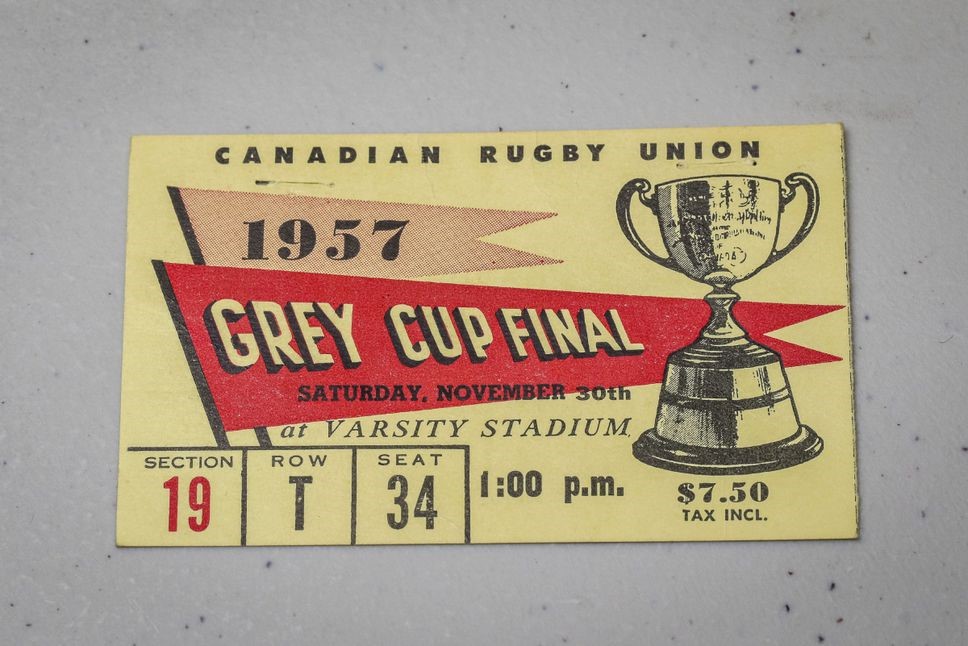 Ticket from the 1957 Grey Cup game at Varsity Stadium (face value $7.50), from Glen Pye's collection.  (DAVID COOPER/ TORONTO STAR)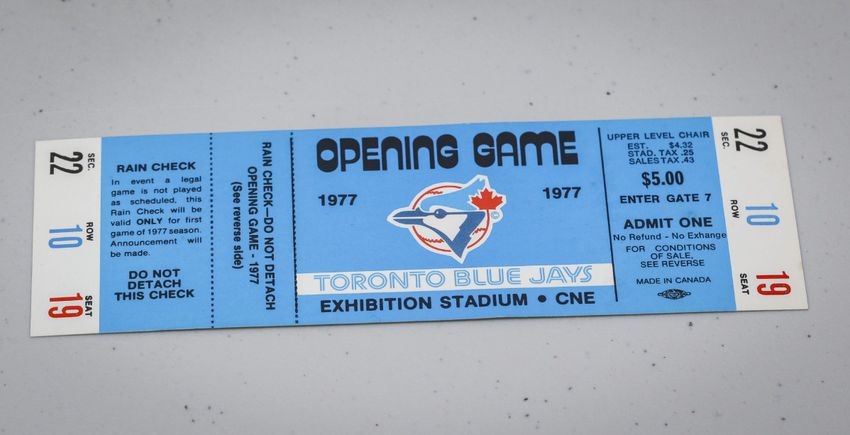 Ticket from the 1957 Grey Cup game at Varsity Stadium (face value $7.50), from Glen Pye's collection.  (DAVID COOPER/ TORONTO STAR)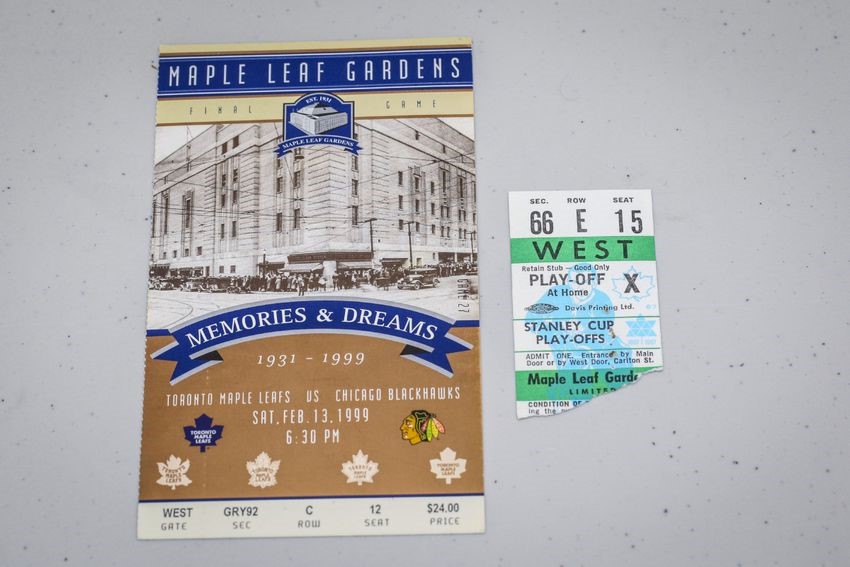 Ticket from the last Leafs game at Maple Leaf Gardens and a 1967 Game 7 stub from the last time the Leafs won the Stanley Cup, from Glen Pye's collection.  (DAVID COOPER / TORONTO STAR)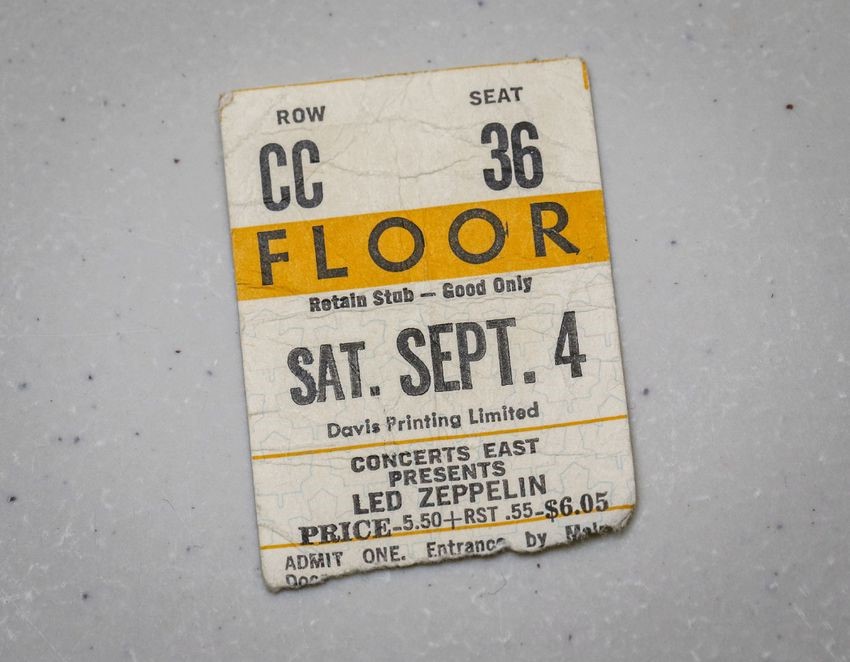 Old Led Zeppelin concert ticket stub, face value $6.05, from Glen Pye's collection.  (DAVID COOPER / TORONTO STAR)
Ironically, Pye prefers digital tickets — "You can't stop progress" — and sees the decline of hard-copy tickets as a potential boon to his business.
"When there's no more around, tickets are going to become even more of a curiosity item."
David Harrison's collection isn't as robust as Pye's or Ingram's, but he cherishes it all the same. The 33-year-old communications officer at St. Mary's University in Halifax has the stub from every Jays game he's been to, including his first: Aug. 12, 1992, when Joe Carter went 3-for-4 with a homer in an 11-4 loss to Baltimore. The ball Carter hit landed two rows from where Harrison was sitting. He'll never forget that.
"I think it's one of the best souvenirs you can have from the experience, especially when you're a kid."
But Harrison can't imagine buying a stub from a game he didn't attend. "It was a moment in time when you were there, and the ticket is a representation of that moment."
Mementos such as ticket stubs play an important role in memory retrieval, says Steve Joordens, a psychology professor at the University of Toronto. They serve as cues or triggers to help us reconstitute past events.
"We run into a cue that is in fact part of the memory, and that part of the memory can drive the rest of the memory to come to mind," he says. "It's literally kind of fishing all that information out, and it allows you to some extent to relive that memory."
For Ingram, that's the biggest payoff. He watched George Bell fall to his knees after catching the final out to clinch the Jays' first playoff appearance in 1985, and he has the stub to prove it.
He knows the shift to digital is a fact of life and sees how it makes sense for the team. But still.
"I know I'm probably in the minority," he said. "It's just fond memories, right?"