Star Tribune / Rana L. Cash / June 22, 2018
Vikings games have meant the world to many fans who cemented the big moments by keeping the paper ticket stubs. Here are your favorite ticket stubs and why they matter so much to you.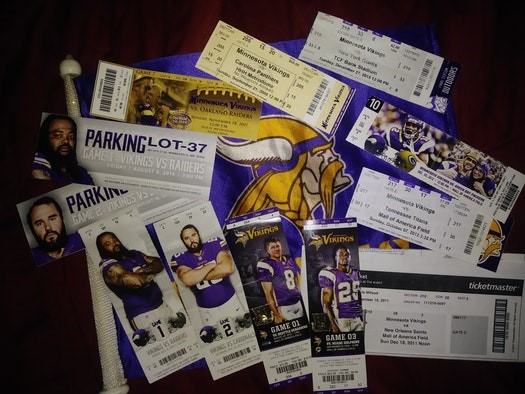 AMY FOSTER, Amy Foster first went to a Vikings game in 2007 and tailgated in the parking lot for the first time in 2014. She's cherished the ticket stubs for every game she's attended since.
The Minnesota Vikings no longer are fans of paper tickets. By transitioning to a fully-electronic process for both training camp and home games at U.S. Bank Stadium, the club is better able to ensure a secure ticketing process and alert fans to important updates through their mobile app.
It sounds terrific — and a little sad, too. Ticket stubs are among the most treasured mementos for sports fans. They often represent special occasions in our lives — a father and son's first game; a jaw-dropping comeback (and collapse) etched in memory; an unforgettable day with friends that set the bar for all outings to come.
No, these aren't throwaway pieces of paper, discarded like fast-food restaurant receipts. Ticket stubs mean a lot, and will mean even more now that they are relics.
So we asked you to send us pictures of stubs near to your heart, and tell us the story behind them. Here are a few of your stories, edited lightly for clarity.
Name: Dennis Moore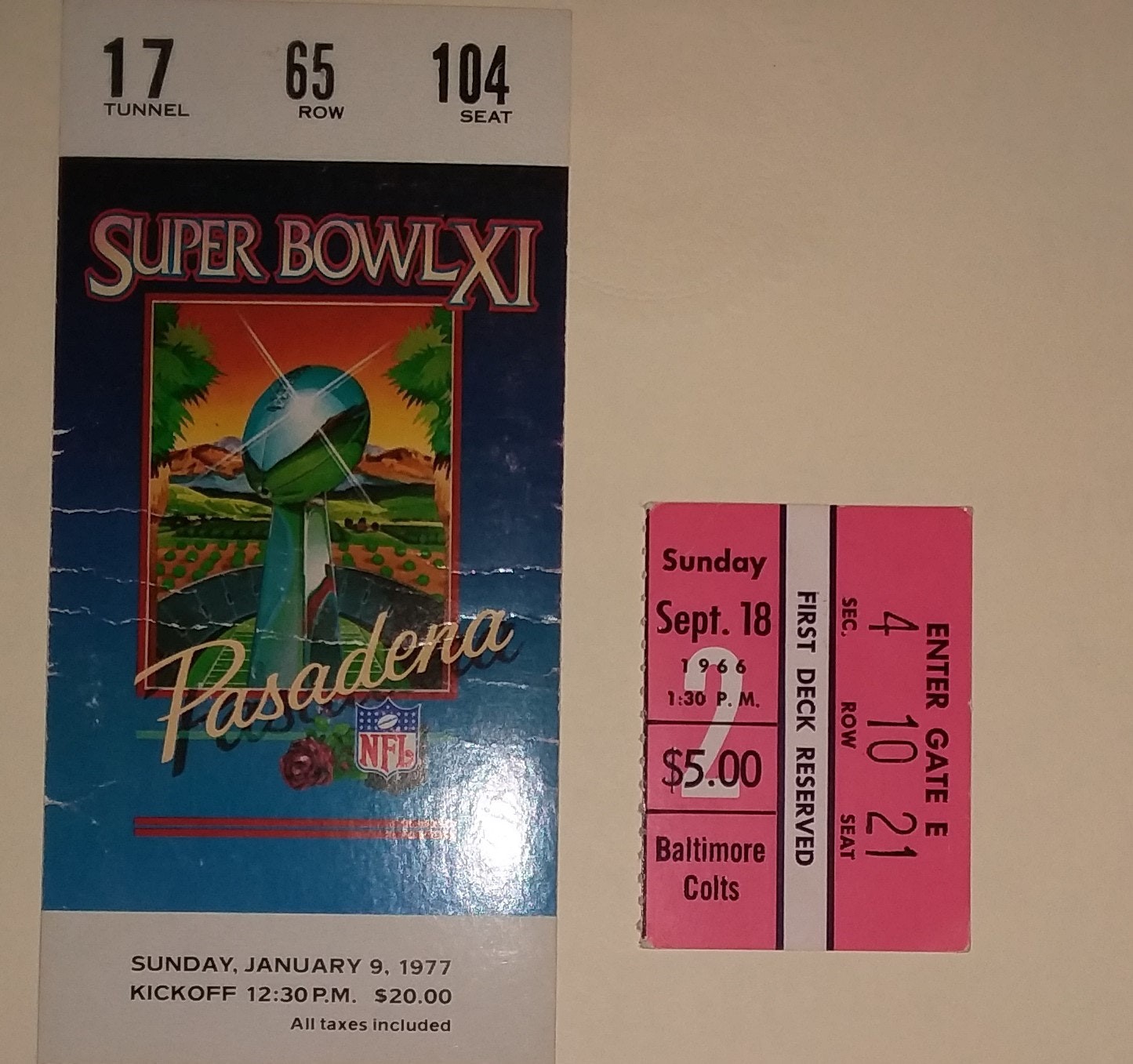 DENNIS MOORE
September 18, 1966, while living in Silver Bay, Minn., my dad and I took the train from Goldfine's By the Bridge in Duluth to watch the Vikings play my favorite player, Johhny Unitas and the Baltimore Colts. While cheering wildly for the Colts, a Vikings fan told me to "sit down or else." My dad, wanting no part of this, also told me to "sit down or else." So I did!! … January 9, 1977, a friend and I flew on a Vikings charter to Super Bowl XI. Cost: $20 per ticket!! We went to Disneyland on Saturday, the game on Sunday, and flew back to Minnesota where the temperature was 30 below zero…but a good time was had by all.
Name: Patrick Burns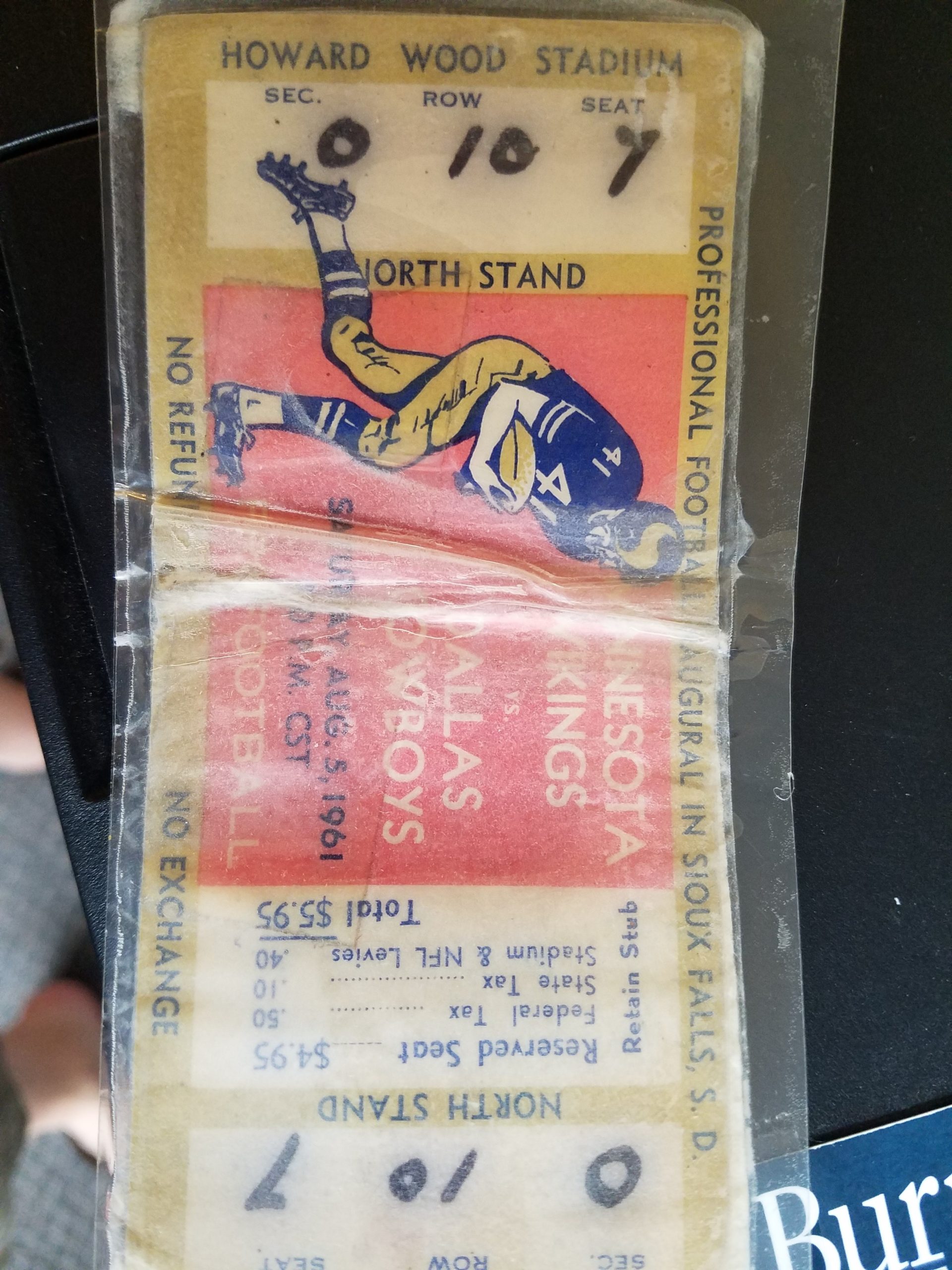 PATRICK BURNS
I have ticket form their first game ever — in Sioux Falls, S.D. My grandfather promoted the preseason game vs. the Cowboys and it was the first pro game that Fran Tarkenton ever played in.
Name: Josie Warren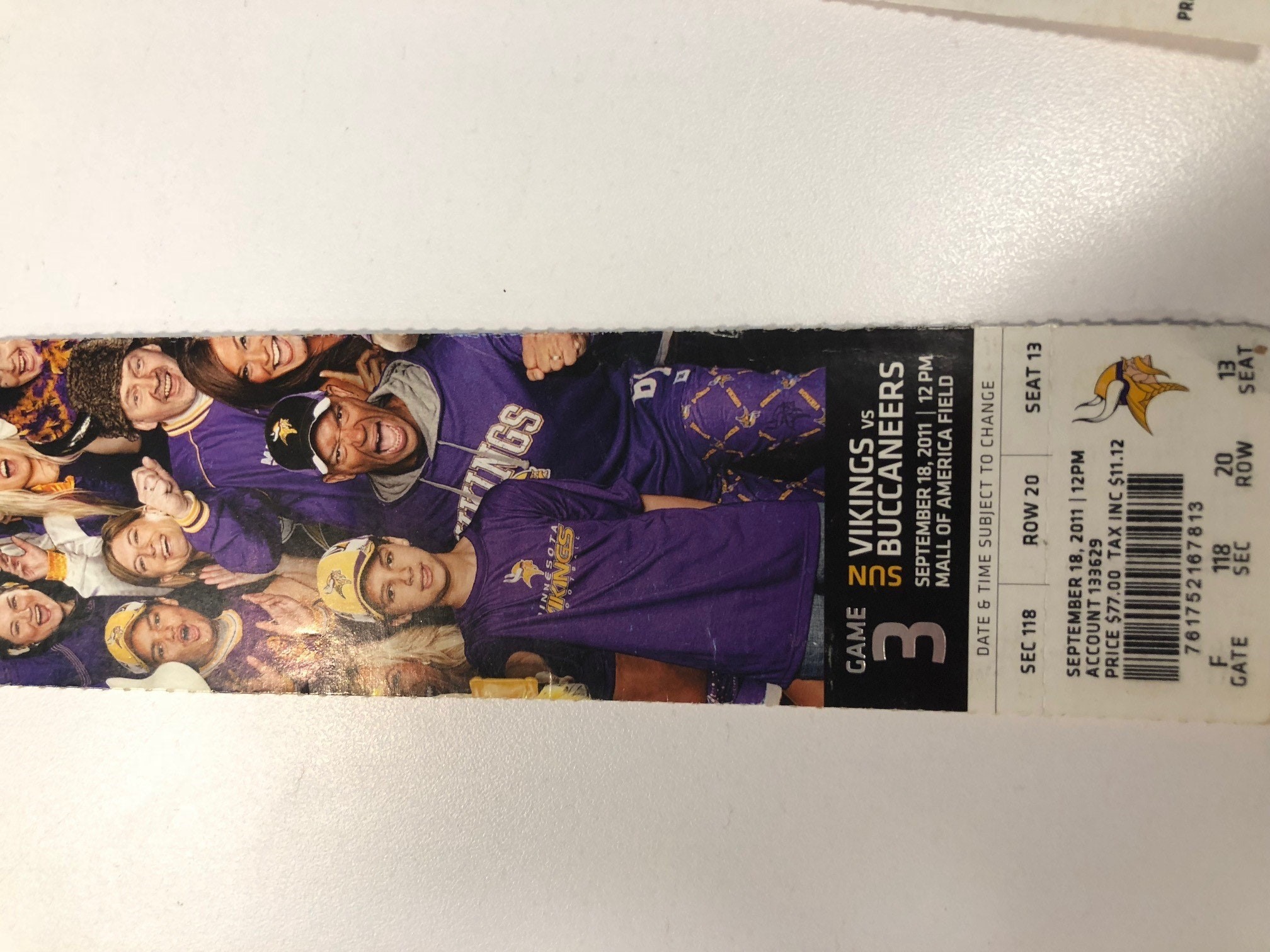 JOSIE WARREN
My most cherished ticket stub is from the home opener, Vikings vs. Buccaneers, on September 18, 2011. I went to the game with my cousin and I ended up chatting non-stop with the cute guy I sat next to during the game. We went out for drinks afterwards, he got my number, we went on our first date later that week, and we've been together ever since! We were married on March 15, 2014. We've gone back to the home opener together every single year since (even the home opener in the new stadium, which we assumed we would never get tickets to!) — it's our favorite tradition as a couple, and Vikings football is a big part of our lives together.
Name: Ted Young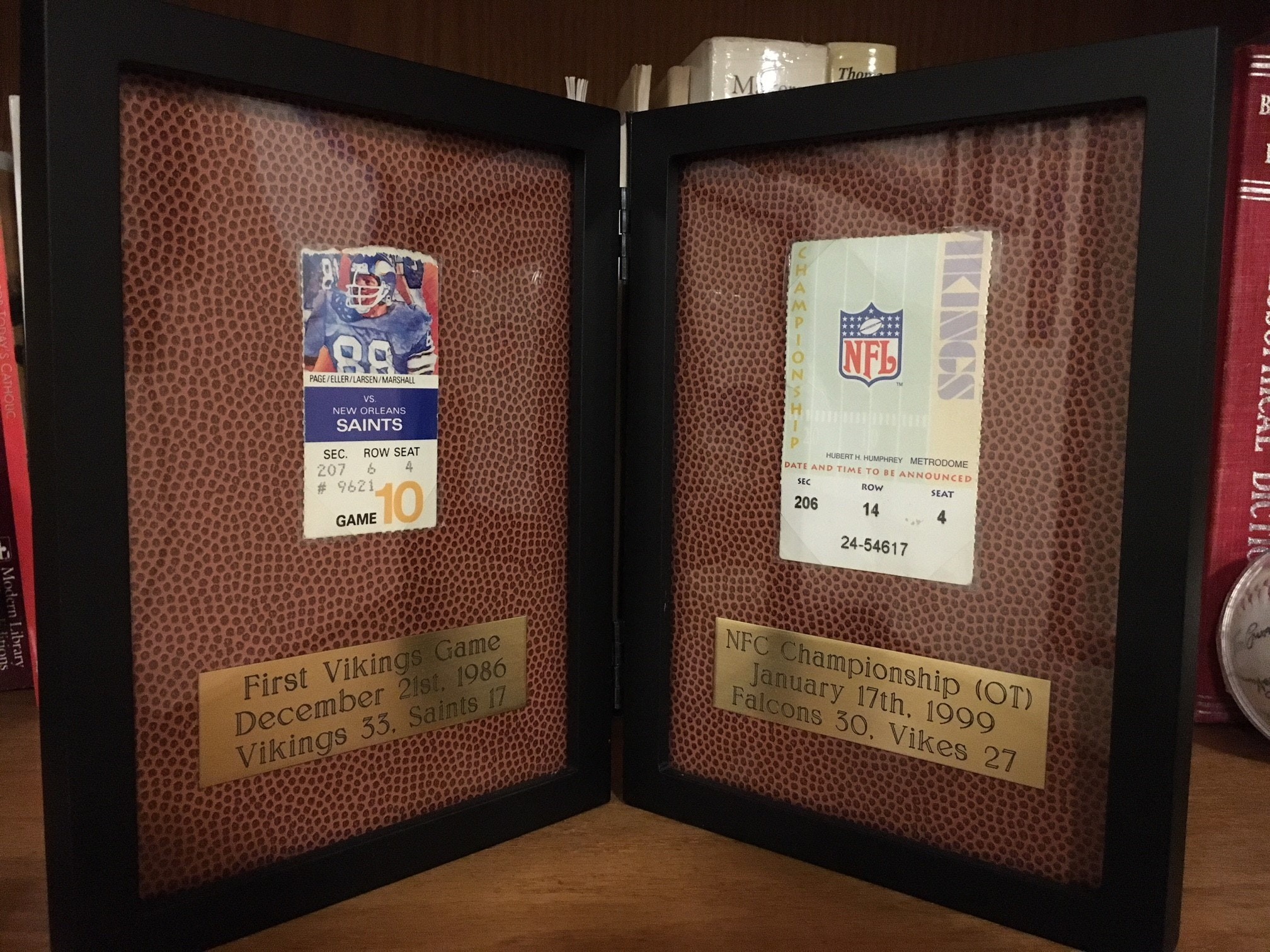 TED YOUNG
My two most cherished ticket stubs are from my first Vikings Game Dec. 21, 1986 (Vikings 33, Saints 17) and the last NFC Championship in Minnesota, Jan. 17, 1999 (Atlanta 30 Vikes 27 OT). I've been a season-ticket holder since 1999.
Name: Lynn Shattuck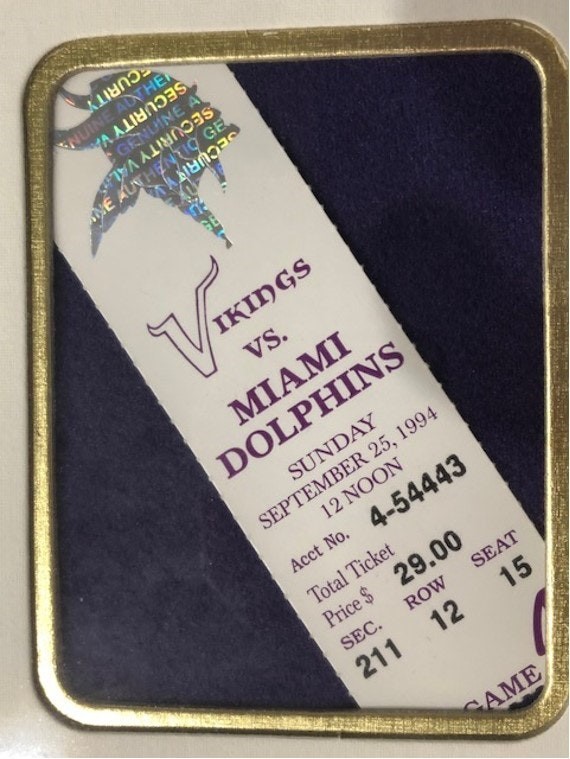 LYNN SHATTUCK
My dad was my favorite Vikings fan. He had two season tickets for every game since 1962. As a child I can remember going to the Met and RUNNING to the car after the game. He was an obstetrician with no cell phone, so we could not get caught in traffic. For this game he sent me with my little nephew. Vikes win! After the game I had something important to tell my dad. I was going to adopt a baby from China. As a single parent, I knew my dad would be the most supportive of any family member. Unfortunately, my mom could smell a secret a mile away so she refused to leave us alone until I had to head home. My dad would have a massive stroke two days later and pass away just three days after that. Am I sad that my dad never knew about my daughter? Nope! I cherish this stub because it reminds me that "someone" sprinkled purple dust on her heart before she was even born. This girl was born a true fan. She named her new kitten Stefon Diggs three months before the Minneapolis Miracle! Thanks Dad.
Name: Syd Davy

SYD DAVY
It was the 2009 season, Game 3, Vikings vs. 49ers. Brett Favre's first big comeback win, with the last second touchdown pass to Greg Lewis. Not only did the Vikings use my image, Syd Davy AKA: 100% Cheese Free, on that season ticket, but Lewis caught the winning pass from Favre right below me, within 5 feet of my seats. I could see his feet were inbounds and the crowd and the wife and I went nuts. It was the original Minneapolis Miracle, and I was part of the game on the game ticket and had the best view of the catch. How awesome is that! This is our Year Skol Vikings!
Name: DeeDee Babler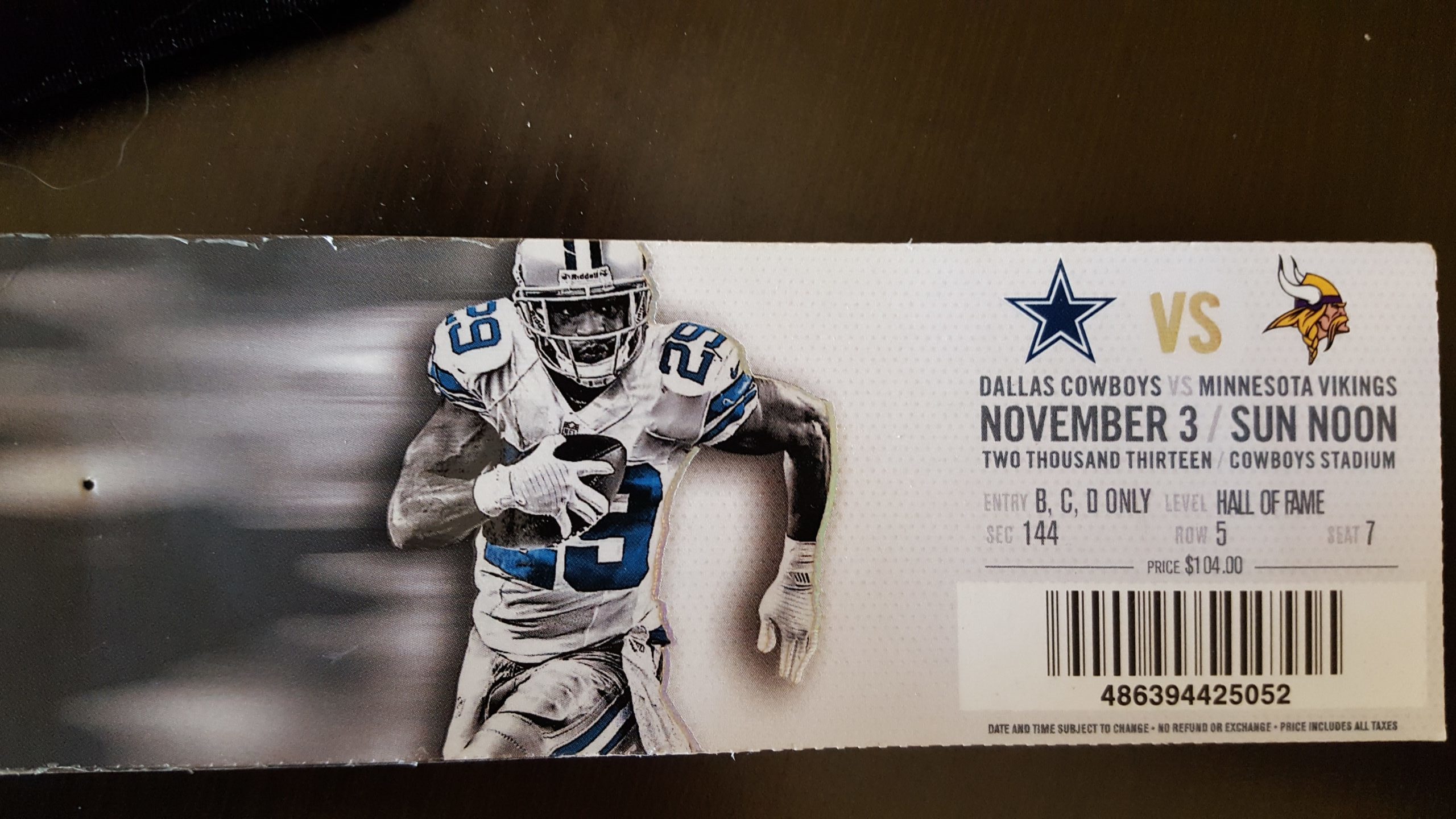 DEEDEE BABLER
I'm a 30-year plus Vikings fan. I relocated to Texas for several years. Living in Cowboy country was brutal for this Vikings fan. I saw the schedule and the Vikes were coming to town, so my bestie and I bought tickets. She flew down, and we went to Jerry World decked out in our purple an gold… lots of us there!! We lost in last five minutes but cherished the memory…. I am back home now and witnessed the Minneapolis Miracle in person but no stub for that one.
Name: Dylan Dragswiek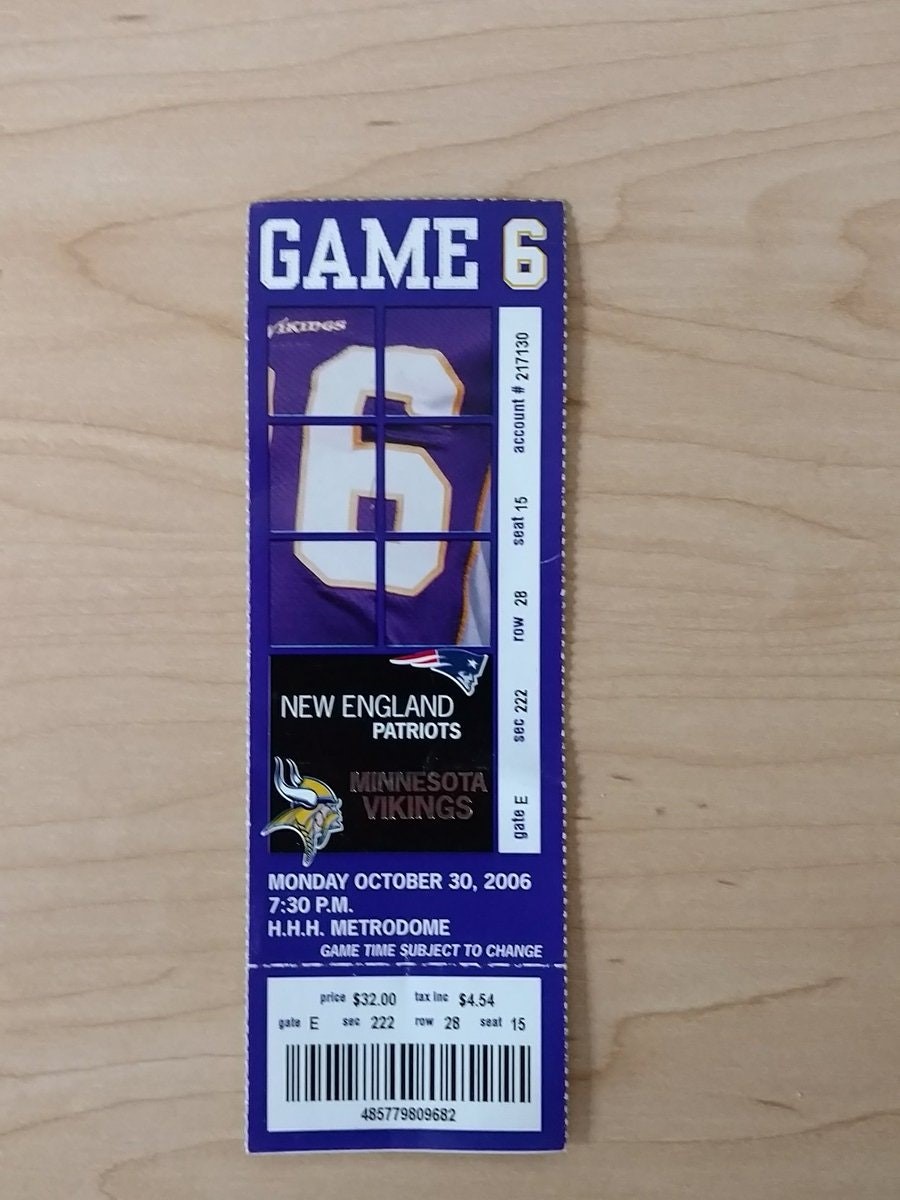 DYLAN DRAGSWICK
My brother saved every ticket stub ever and I now have them all. Found one from the time Tom Brady detroyed the purple on MNF that we went to.
Name: Jeff Salem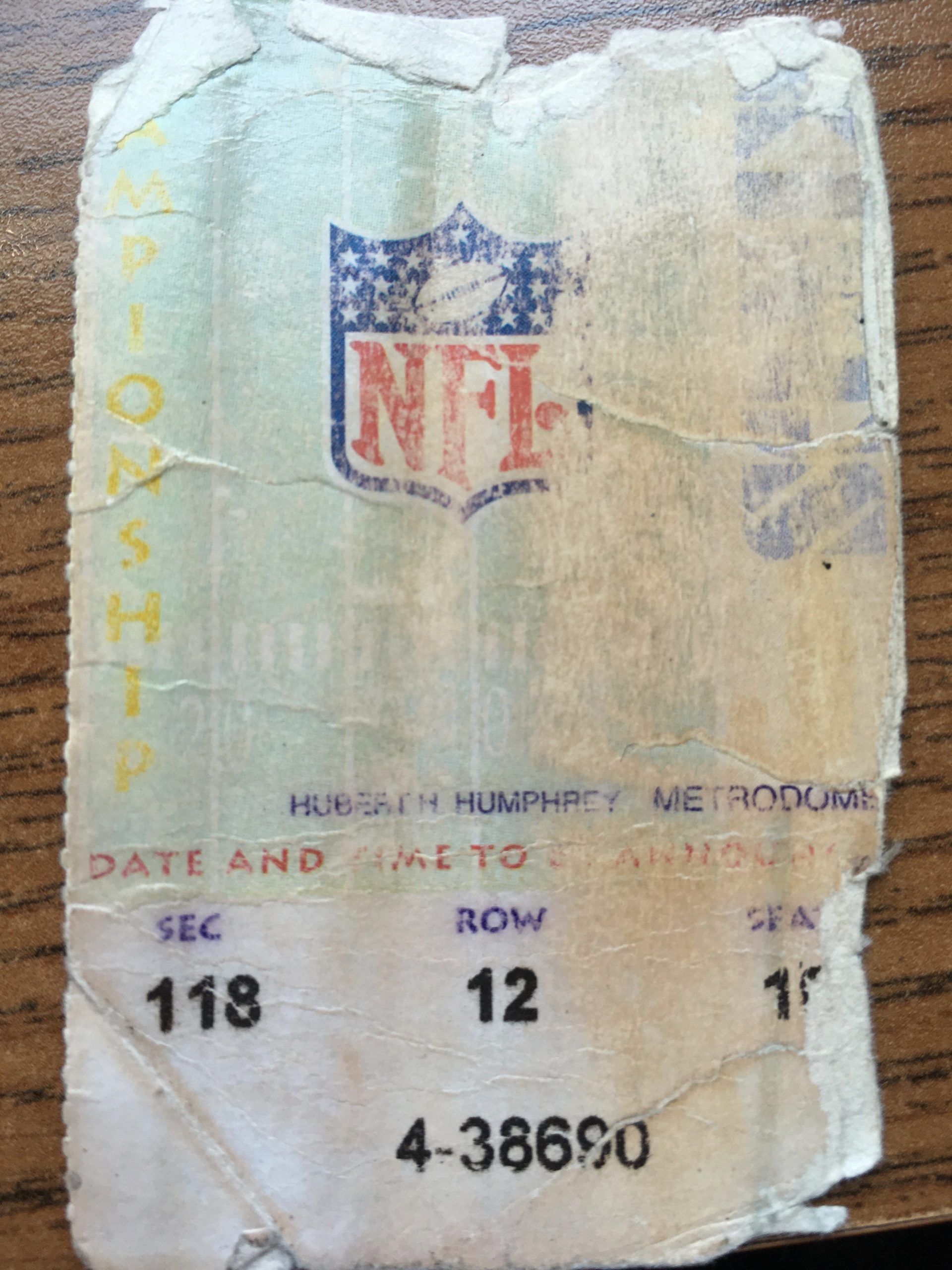 JEFF SALEM
Growing up in Lincoln, Nebraska (where I still live) I was obsessed with the Vikings for no other reason than my favorite color was purple when I was 5 and my dad said there was a football team that wore the same color. When I was 16, my dad surprised me with tickets to my first-ever Vikings game: the NFC Championship vs. the Falcons on Jan. 17, 1999. Yes, that game holds bad memories for our fan base, but my first trip to Minnesota and the Metrodome cemented my love of the Vikings ever since. I've since had a stint as a season ticket holder (during the mid-2000s) and come back to a game almost every year. But the ticket stub I still have in my wallet to this day is the NFC Championship game stub. People are amazed every time I mention I have it in my wallet (19 years and counting!). I like to think the stub has brought me and my family luck (we're now raising three more Vikings fans ages 7, 4, and 1) even though the game itself is one of the darkest in team history.
Name: Nick Hopmann
NICK HAPMANN
These are my favorite stubs. I put them in a frame and have them in my medicine cabinet to remind me every morning of hubris; As a Vikes fan you can never, ever think you've got the game won, converted that fourth down or made the playoffs until it actually happens. That's what made the Minneapolis Miracle so crazy; most of us for the first 30 seconds were in disbelief thinking this cannot have happened. Good things don't happen to us. Anyway with the playoffs that season secured, the Arizona game was the only one in five years up to that point (and never repeated since) I didn't watch real-time, wherever I am. Just ask Paul Allen how that ended. So these tix never got used. I framed them to remind me that these are my Vikes. Skol.
Name: Miranda Muzik
MIRANDA MUZIK
I still have not just a ticket stub, but a whole ticket from that fateful day in 2010 when the Metrodome collapsed. I was 14 years old, and was finally going to see my two favorite NFL teams play against each other. As an added bonus, my ticket featured my favorite Viking, Jared Allen. It was a devastating day, but now I am able to look back at it and laugh, and feel grateful no one was inside when the roof came down. Thankfully, the Vikings played the Giants again at TCF Bank Stadium. I got to see them play…in sub-zero temperatures.
Name: Ryan Thelen
I have collected ticket stubs since I was 7 years old in 1992 and haven't stopped since. I never look at them, but it's just a cool, simple, free way to keep a memento from all of the sporting events and concerts that I have attended over the years. I have also kept all of the ticket stubs from the games my son and I have attended since he was born. It was awesome to look back after his first birthday and see all of the stuff we did together during his first year and it will be fun to show him that collection some day. Very disappointed the Vikings are getting rid of hard tickets. Hopefully they will at least give the little ticket slip when you scan in at the game much like the Minnesota Wild currently do, however, it wont be nearly as cool as the full sized ticket.
Name: Jay Haapala
It says Sec 127 Row 18, but we got to sit first row on the 50 -yard line because our gate opened early and we ran to the seats. Of course it was all general admission since the seats didn't translate from the Metrodome to TCF stadium. My buddy and I were interviewed by the Strib for the next day's cover story because we commoners were sitting in these seats for Monday Night Football. Who knows what that normally costs or who they'd be reserved for? It was also Favre's last game after he hit the frozen turf.
Name: Mike Remington
JAY HAAPLA
Antonio Cromarte with longest return of missed field goal in NFL history. Oh yeah, also Adrian Peterson's single game rushing record.
Name: Mike Shaw
MIKE REMINGTON
The pictures are of me and the lady who is now my wife back when we were just friends and I was crazy about her. She was in the Army Reserves and was deployed to Afghanistan for most of 2007. In November of that year she was home on leave and I scored some good seats to Vikes vs Chargers ($120 on Craigslist for the pair). She agreed to come with me and… AP for 296! Has no bearing on her eventually falling for me, us getting married, and having a couple of wonderful kids, but a nice memory every time I see that stub!